Various printing techniques: how they work and their built-in fees
When we provide standard promotional items, we charge set-up and sometimes additional unit fees. Why are these fees necessary? Let me explain.
First of all, in order to provide an affordable promotional item when we cannot manufacture it ourselves due to time or volume constraints, we buy it from partners who offer a variety of items. These partners must carry extensive stocks and tie them up in inventory until a client places an order. It is only once your logo or design is sent and the proof approved that production can begin.
Here are the different steps:
A team unpacks the items from their bags, boxes or protective wrapping and verifies product quality. A larger quantity than what is by our client is delivered because when items are embellished (when your logo or design is printed on the item), some damage or rejections may occur.
The logo or design is set up on the printing machine.
The logo or design is printed on the items, often one at a time.
The team packs the items in their original packaging and prepares shipping documents (for example, delivery slips).
Why do I need to pay set-up fees? Depending on the method used, it may be necessary to recreate your logo or design on a stencil, pad, plate, etc. We then mount it on the printing machine and test it. This requires time and clearly generates costs. If colour is involved, we need to prepare the colour mix and make sure it stands out on the chosen item.
Why am I charged PMS or Pantone fees? When a specific PMS or Pantone colour is required, colour preparation is rigorous, takes more time and needs extensive testing. Because we work with paint and PMS codes are highly precise, we often need a long process of trial and error before achieving the desired result.
I have a 3-colour logo. Must I really pay 3 set-up fees as well as additional execution expenses for each unit? Absolutely. In most cases, your logo will be printed using screen printing technology. This method can print only one colour at a time. This means that for every colour, a stencil will be needed. The production team will print the first colour, let it dry and start over again with a new stencil for the second colour and so on for each colour. Furthermore, because these are manual steps, it is likely that a small space or merging of colours happens from one unit to another. This is the reason why an extra fee per unit is charged for each additional colour.
It is also important to know that printing gradient colours using screen printing is not feasible. However, some of our partners are equipped with a 4-colour offset printer, which means that we can print as many colours and gradients as needed. This method is usually less expensive for a logo containing 3 colours or more because only one set-up fee is charged.
I want to reorder. Why do I need to pay set-up fees again? Even if stencils, pads or plates had been made when you first ordered, mounting and testing steps are still required before launching production. However, set-up fees for a repeat order are usually less than those paid initially. Various stencils, pads and plates are normally kept for 12 months following a first order. If you reorder after this delay, you will need to pay new set-up fees.
Why is the final print so small? We will choose the best possible print method for the item's shape, texture and dimension. This will allow for the best adhesion and the largest possible size. I assure you that our partners' goal is to maximize print size because they understand the importance of your logo's visibility. However, some level of disappointment may occur when you see the end result. Let's take a pencil, for example.
A pencil is a long, curved, small sized item, making printing a challenge. Certain printing machines cannot rotate the pencil to widen the image during printing, therefore limiting its final size.
Why is there only one colour possible on my item? Depending on the method used or available, we may sometimes have to limit ourselves to one print colour. Pad printing is one example and is described below.
I ordered several items with the same logo. Why do I need to pay several set-up fees? Unless your items are all the same size and made from the same material, each one will require a different printing technique and logo dimension. This is why set-up fees are charged for each item. Sometimes, we can combine quantities for garments when the same technique is used for your polo shirts and your hoodies, for example, but it is rare.
I would like to avoid transportation charges; can I pick up at your offices? Because we work with partners located around the world and because your order will be sent from their location, transportation charges will be the same, whether your package is delivered to our offices or yours. Transportation charges are calculated from the manufacturing location. However, you will never have to pay for customs or brokerage costs as these are always included in our prices.
I ordered 100 units. Why did I receive 105 units that are billed to me? Or why are you charging me exact quantity fees?  As mentioned earlier, the printing team must print more items than the quantity ordered to compensate for discarded items due to printing flaws or other problems. But if every unit is perfect, they will be delivered. It may also happen that you receive only 95 units instead of 100 and will then be charged for 95 units. However, if you want the exact quantity ordered, you may get charged for an exact quantity fee. Since the team will need to print a few more items anyhow and discard the additional items that would normally be delivered, this becomes a loss for our partner and is therefore billable.
The Most Popular Techniques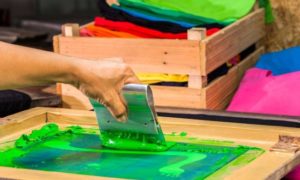 Screen printing or silkscreen: Screen printing, or silkscreen, is a printing technique using stencils (originally silk screens) placed between the ink and the substrate. Various substrates can be used, such as paper, cardboard, textiles, metal, glass, wood, etc. Only one colour may be printed at a time, so several screens must be used to produce a multicoloured image.
The advantage of this technique is that it uses a fair amount of ink which provides both an intense, lasting colour and a good opacity.
Screen printing is economically interesting, but is not recommended for printing fine details. It is also known as serigraphy and serigraph printing.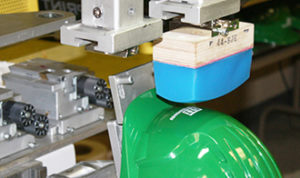 Pad printing: Pad printing (also called tampography) is a printing process that transfers 2-D images onto 3-D objects using an inked silicone pad. Pad printing is used for printing on either flat or uneven, difficult-to-print surfaces. This guarantees a sharp and quick printing process, regardless of quantities.
The unique property of the silicone pad is to "pick up" the image from a flat plane and transfer it to a variety of surfaces, such as cylindrical, spherical, compounded angles, textured, flat, concave, or convex. The silicone pad is made to match the surface on which the printing will occur.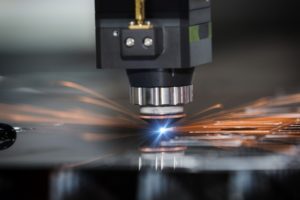 Engraving : Engraving is the practice of incising an image, text or other onto a hard and usually flat surface by cutting grooves into it with a chisel. The result is a permanent print, more discreet and often with a high-end feel. Engraving is one of the oldest and most important techniques in printmaking.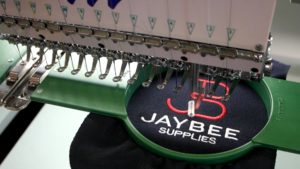 Embroidery : Embroidery is a type of decoration where a flat or raised design made of single yarn is added to fabric. This mechanical or semi-mechanical technique is calculated according to the number of stitches (computed by thousands) a machine needs to sew in order to complete a specific size design where the number of colours is not an issue. This technique is often used on clothes, bags or caps.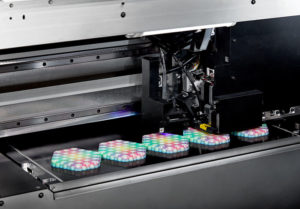 Digital printing : Digital printing is a reproduction method where a digital-based image is printed directly onto various items. This method is used when a logo has more than 2 or 3 colours as it is less expensive. However, digital printing has a higher cost per unit than other traditional printing methods, but the cost is usually offset by the fact that this technique does not require stencils or plates. The cost is only for a unique set-up fee.
Emboss or inlays (deboss): Embossing and inlays are used to create either raised or recessed relief images and designs on specific materials. An embossed pattern is raised against a flat surface, while an inlay pattern is sunken into the surface of the material. This technique is mostly used on vinyl, faux leather or leather.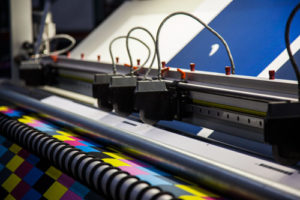 Sublimation printing: Sublimation printing is the simplest and most efficient method when transferring photos and high resolution images onto a variety of items. The image penetrates the item's surface instead of being simply affixed on top. This allows a perfectly smooth product to the touch as well as superior image definition.
I hope that the above explanations will help you better understand the promotional world as well as the different charges and printing methods that are used. Do not hesitate to contact Sobezone for any promotional item requirements.
_______
Geneviève Éthier, CEO of Sobezone
Passionnate about your projects
_______
*source for printing techniques: https://en.wikipedia.org/