Going green with eco-friendly items
For some time now, the demand for promotional items that are eco-responsible, recyclable or made locally has risen exponentially. Here at Sobezone, we offer a wide range of promotional and corporate products that meet this criterion. Here are some examples, to list a few:
Ballpoint pens
The ballpoint pen is a classic promotional item that is handy and always useful. Fill two needs with one deed by offering a pen made from a variety of eco-responsible materials.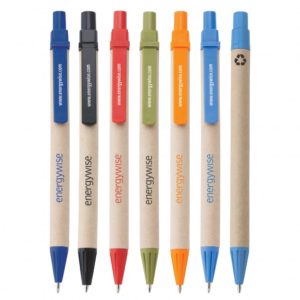 Paper push-action pen with cornstarch trim and recycled symbol on upper barrel.
Paper made with 80% recycled materials and trim made with 50% biodegradable materials.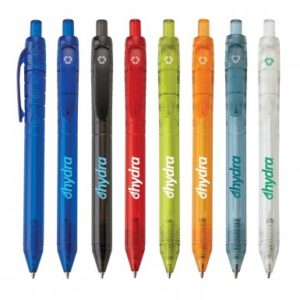 Recycled plastic push-action pen with a recycled symbol printed on clip
Made with 80% recycled materials from plastic water bottles.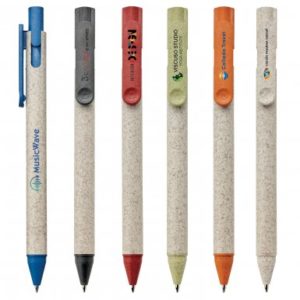 The wheat straw pen features a barrel made with wheat husk, an agricultural waste that remains after the grains are harvested. Paired with a low lead refill, The wheat straw pen with its minimalist style is the perfect ambassador for your eco conscientious promotion.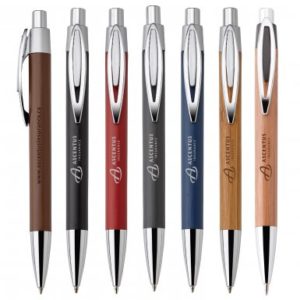 Bamboo and metal push-action pen with plastic trim made with 45% biodegradable materials. Aside from being 100% biodegradable, bamboo is durable and highly renewable. Incredibly, it grows several feet in 24 hours and requires 30% less water to grow.
Travel items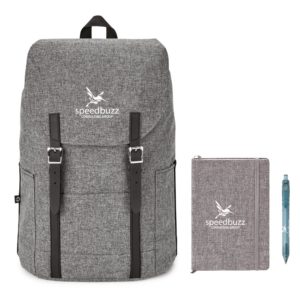 From plastic to purpose! This backpack is made from 10 water bottles of 500ml.
You will be impressed with the eco-friendly RPET journal with its textured cover made with 100% recycled water bottles. This journal has a gusseted pocket to hold your notes and the elegant grey cover is complemented by a matching ribbon bookmark and an elastic closure. To complete the combo, this non-refillable perfect bound notebook comes with with 96 FSC acid-free cream colored lined sheets.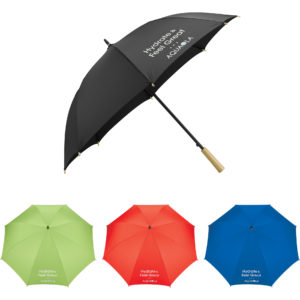 Why not complete this eco-friendly set with an umbrella made from recycled water bottles and a bamboo handle? Its large size will surely keep you dry!
100% waste-free lunch
From bamboo cups and utensils to reusable straws and lunch boxes made from recycled water bottles, it is now easier than ever to attain a zero-waste lunch!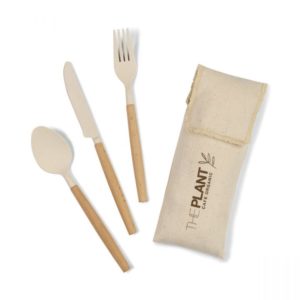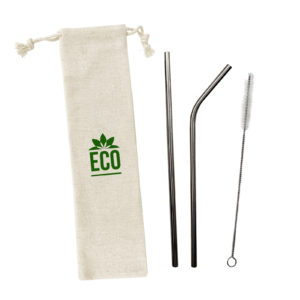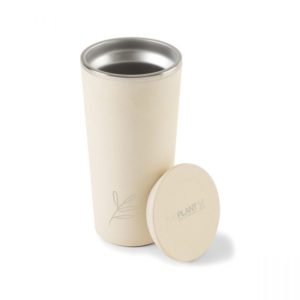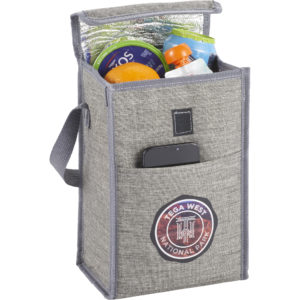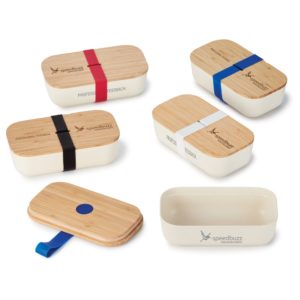 When it's time to bring your snack to work or to store your leftovers, no more plastic wrap! Keep your sandwich, salad and fruit in this eco friendly bamboo storage box with the lid made from 100% bamboo and the base, 60% bamboo fibers.
This container is freezer safe, dishwasher safe and comes packaged for eco-conscience gift giving in a natural colored corrugated tuck-in box. Choose from a selection of colored silicone bands to compliment your logo and choose from laser engraved branding on the bamboo lid or silk-screening on the container.
Locally made items
A wood pencil holder, reusable snack bags, seed bombs in a muslin pouch or wood games, those are all eco-friendly ideas that are custom made locally.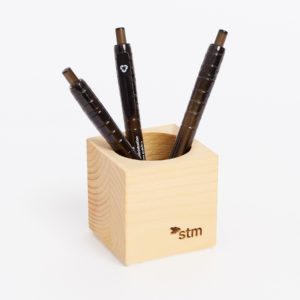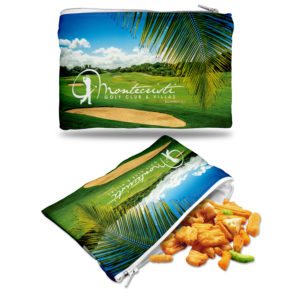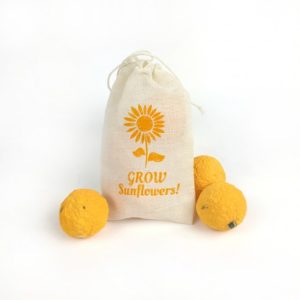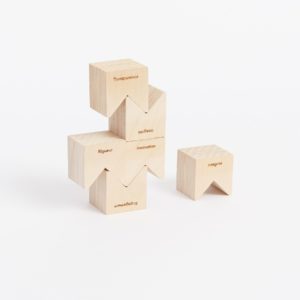 Clothing 100% Canadian, ethical and comfortable
Showcase your ethical nature.
Designed, made and decorated locally in Quebec, our clothing line is made from Jersey and French Terry fabrics using GOTS-certified organic cotton and recycled polyester. Tightly knit and smooth, it is comfortable, silky soft and perfect for decorating with a logo or graphic.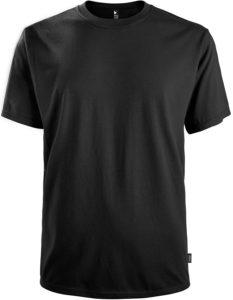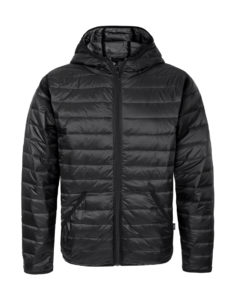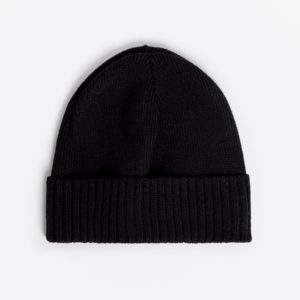 These are just a few examples of eco-responsible promotional items. For more personalised ideas and propositions tailored to your project, please contact us.