A custom calendar to celebrate the holidays, a countdown for the end of a project, training milestones accomplished, a special event or a product launch, any reason is the right one to offer a customized advent calendar!
The customization includes a full graphic on all the calendar, the chocolates flavor choice, the shape of the chocolates and why not adding a message behind each individual chocolate transparent support. Includes 24 individually packaged pieces of Belgian chocolate in all. Each Advent Calendar contains 23 foiled Belgian milk and dark chocolate coins located behind days 1-23. Your custom engraved 3″x 5″ milk or dark Belgian chocolate piece is packaged in clear cellophane behind day 24. Choose two foil colors for the coins. The lid is completely customizable so have fun creating something that your customers or employees will enjoy interacting with for the better part of a month!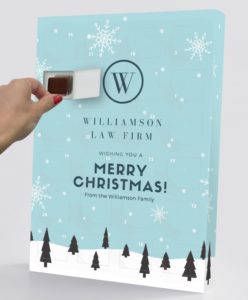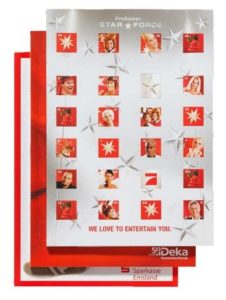 _____
You want to know more about this item ?
Contact us !