Grow your brand image!
Numerous large corporations and organizations are moving towards eco-responsible marketing practices. Here's a fascinating promotional object that is perfectly suited to the zero-waste movement: plantable seed paper!
Picture it: you create a teaser for a communication campaign to launch a new product… this same teaser is then planted by your client and, within a couple of months, he or she is eating vegetables!
Seed paper is a powerful marketing tool that goes beyond the object itself. It gives your communication tools or promotional objects a second life, while labeling your brand "eco-responsible."
How does it work?
It's a simple concept: 100% biodegradable paper (made from post-consumer materials) is embedded with seeds and printed in your corporate colours. When the paper is planted, the seeds grow and, within a few days, sprouts appear.

What types of seed are available?

There are many options! So, you can create an exclusive, custom-made communication campaign concept.
Wildflowers

Herbs

Vegetables
Seeded paper object and product ideas
Use your imagination, when it comes to promotional objects created from seed paper, the possibilities are endless. We adapt the object according to your needs or to the message you wish to convey to your clients.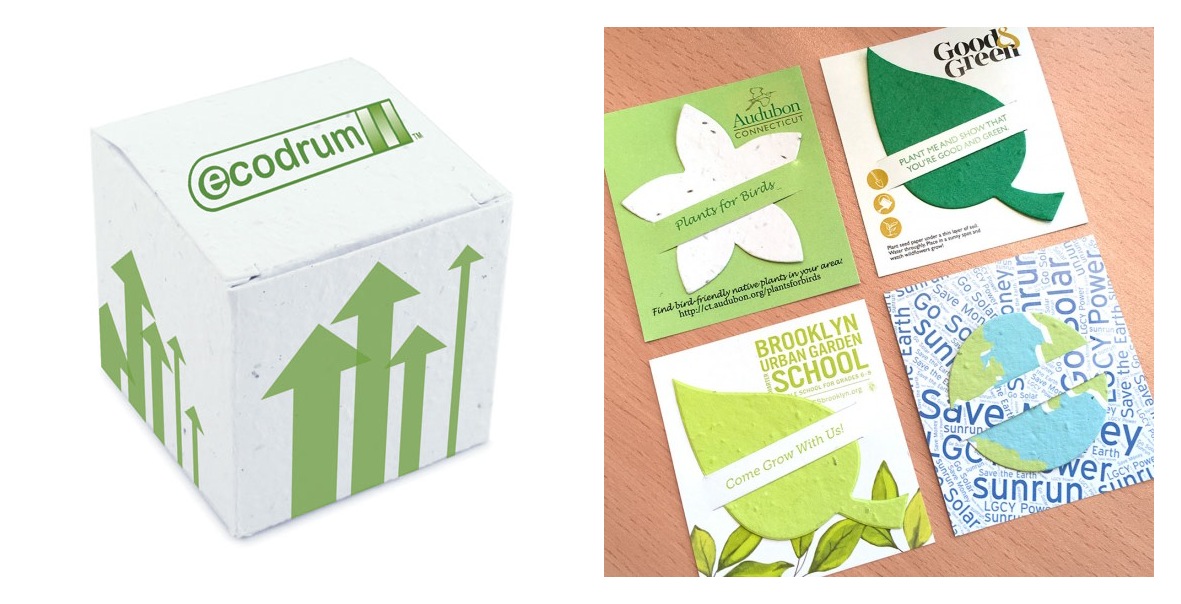 Here are a few ideas to inspire you:
Personalized product packaging

Personalized product packaging

Boxes

Business cards, coasters

Notebooks, bookmarks

Flyers, brochures

Clothes labels

Envelopes

Calendars
Advantages of our seed paper:
Made entirely in Canada;

Approved by the USDA and the Canadian Food Inspection Agency for planting in the USA, Canada and other countries;

Tested and controlled for purity and GMO-free;

Made from post-consumer and post-industrial materials to save trees;

Offers good printing quality.
_____
Interested in a marketing tool or object made from seed paper?
Contact us to discuss your project!